AFRA Accredited Removalist Adelaide
If you're looking to arrive at your new home or destination on time, knowing that your precious things are cared for, then get in touch today!
Aussimove is an AFRA Acredited Removalist and an AFRA Founding Member You Can Trust!
Australian Furniture Removers Association (AFRA) is an official body of removal experts that help develop, maintain, and regulate standards in the furniture removal industry. Only removalists who agree to abide by the AFRA Code of Conduct and have the necessary equipment, vehicles, premises, and the staff training to complete a professional move will receive an AFRA membership accreditation.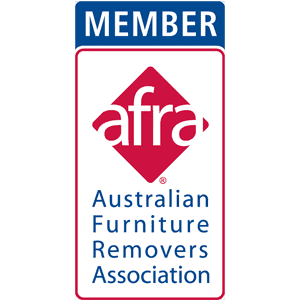 Why Choose an AFRA Member
At present, there are approximately 350 furniture removal and associated companies that are AFRA accredited. Members of AFRA can provide services such as Local Moves, Interstate Moves, International Moves, Packing and Unpacking, Office Relocation, and Storage. And as one of its founding members, Aussiemove International Movers has the knowledge, equipment, and systems that meet and follow the AFRA ideal removalists. Aussiemove delivers AFRA compliance for local moves, international destinations and to interstate destinations Australia-Wide like Melbourne, Sydney, Brisbane, Gold Coast, Townsville, Cairns, Darwin, Perth, Canberra and more.
Below are more reasons why you should choose an AFRA member like Aussiemove International Movers for your removal needs in Australia.
We have safe and secure storage facilities.
Our team consists of trained, professional removalists.
We have approved premises to conduct the business.
We have well-maintained trucks and other vehicles for removals.
We serve customers moving within Australia or overseas.
As a member, we carry Public Liability Insurance for your personal safety.
We are also authorised to provide Transit Insurance to protect all goods being moved.
In the event of unresolved claims, you can approach the AFRA office for assistance
What Benefit Does Using An AFRA Accredited Removalist Provide Me?
If you are looking for a reliable company that provides protection and guidance and ensures you receive quality moving services, you've come to the right place. Choosing Aussiemove International Movers means choosing a genuine commitment to the highest industry standards possible. You can discuss your next removal project and get an obligation-free quote with us.
For more information about AFRA, you can check them out at https://afra.com.au today.