Storage Adelaide, Your All In One Moving & Storage Solution
Professional storage solutions
Storage solutions made easy!
With the help of our storage facilities in Adelaide, Aussiemove can store your furniture and goods safely while waiting for your new home to be ready or while you travel overseas.
When you don't need access to your goods, but need them stored carefully and safely, Aussiemove is your storage facility of choice. We offer a range of cost-effective short and long-term options for storage in Adelaide, tailored to suit your needs.
When you store your goods with us, furniture items are wrapped in heavy-duty blankets, soft furnishings are covered in plastic and wrapped. We create a complete inventory of every item that you store. Everything that you store is modularised and labeled before it is stored away. The records of your inventory are then digitised, so that even if something happened to the paper records, we still know exactly what you stored and where it is.
Aussiemove Long-Term Storage modules are not only cost-effective but extremely low risk to you. Our storage facilities undergo electrical, roof, and gutter inspections twice yearly, as part of our requirements for Australian Customs and Australian Government accreditation.
Contact our storage advisors now to discuss your removal and storage needs.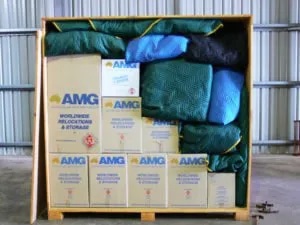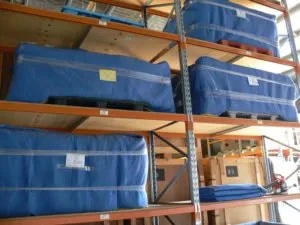 Contact Aussiemove for a thought provoking storage solution today!
Containerised Storage – Aussiemove offer a short-term storage option to suit your needs. These containers are made of steel and remain dust free and completely sealed for the duration of the storage period. In most instances, your goods will be packed into the container at your residence and then delivered to our on-site storage facility in Adelaide. This ensures reduced handling of your goods.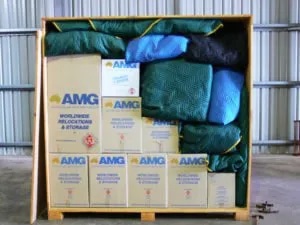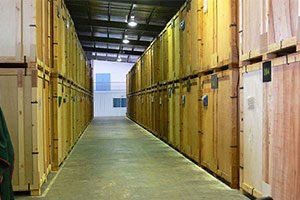 Modules – This is effective for long-term storage requirements. These wooden boxes are purpose built to store household goods undercover within our warehouse and ensure a dust-free environment and complete isolation. Usually, your goods will be delivered to the storage area, where they will be unloaded and professionally stacked into their own wooden boxes or crates.
All goods stored by Aussiemove are handled with extreme care and attention to detail. Furniture items are wrapped in heavy duty blankets, soft furnishings are covered in plastic and wrapped. Goods are securely placed in modules and lounge suites are stored in our lounge racks within the warehouse.